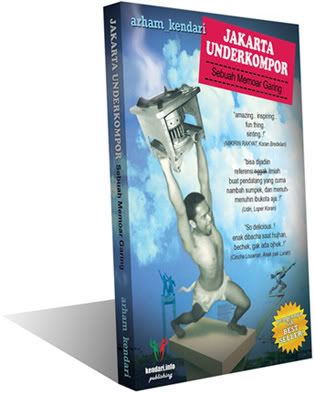 It was quite long time ago i heard
Arham Kendari.
will publish his creative idea through a book.
My friend
have introduced Arham's web and friendster to me.
I though he deserves to get it since his creative idea and funny illustration are a perfect combination for book publishers. So... when i see his book is displayed in a book store...i was not surprised anymore.... And without further thinking...i bought it...
Arham is a creative person... who can create his daily life into a funny story.... even sometimes it is diffifult to distinguish between funny and dumb... (sorry...hehehe)...
For example: he forces himself to get in a crowded public transport or letting his nephiews making decoration on his face.... hmmmm...

But anytime he writes a story related to his mom... Arham becomes a sensitive and melancholic person... I can feel it... But it is a compliment for him. Furthermore... Melancholic is better than becoming an alcoholic... right? hehehe

One thing.... I can see from this book, his transformation from Siti Nurhaliza lover to Dian Sastro lover....Have you changed your mind Arham? And in the cover, we can see Arham shows off his little bit hairy armpits.... Do not you need firdaus oil beforehand Arham? LOL

As a conclusion.. this book is worth to be read.. your forehead doesnt have to be folded..... Very entertaining.....