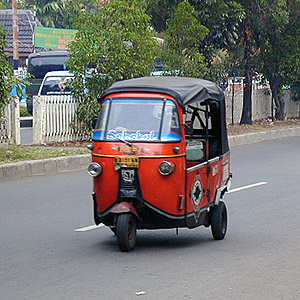 I am 100% sure... living in Jakarta is not a good idea for me... Ok... As the capital city of Indonesia Jakarta is the center of goverment, has many destination for tourists, such as TMII, Ancol beach, etc... But.... the transportation is aweful. Let me name public transportation i used to take  
1. Bajaj.
Cheap, saving times since it can take small street, but it is so loud so when we have to talk to the driver... we should yell each others... Interestingly,we will experience shaking butt.. since the engine (i guess) is a perfect shaking machine.... Dont expect air conditioner please.. just natural air (with pollution off course...) and smoke from other public transports... I took bajaj's pic from here 
2. Kopaja. 
I just take this one time. Unless cheap, nothing i can get benefit from it. So hot... (so if you need to loose your weight... please take this public transport frequently)... sometimes... beggars and street artists join with the passengers.... You should pray to God if you take this since the drivers are crazy... they drive wildly... like a wild horse.... saving times??? Not at all..... no exception for Kopaja in terms of traffic jam. Watch out your wallet from the thieves.
Actually, this is the latest public transport in Jakarta. Very convenience if we do not take it during peak hours. Cheap... (just IDR 3500 for one trip)... saving times... since it has its own track.. so (almost) no traffic jam at all.... But during peak hours.... (say 7 am and 4 pm).... no space while we are sitting in Trans Jakarta. Most times, we can get seat at all... so.. standing time... Fortunately it is completed with AC... and FYI they have limited routes. So far... i think Trans Jakarta is the most convinience public transports in Jakarta. Save enough from thieves (not 100%)... 
4. Taxi
More private, full AC, even it is quite expensive. Dont take this during peak hours if you dont want to waste your money..... traffic jam is so bad in Jakarta. So far... "Blue bird" is the most realiable taxi supplier in Indonesia... 
Since i am talking about transportation, i think i need to tell about my trip to Jakarta recently. From my hometown, i should take a plane to Jakarta. Off course economic class (hehehehe) since the goverment paid for me. Even though it was economic class, the price was expensive, 7 digits. As i checked in quite late and philgrims took the same plane... i was taken into the executive class. Bigger space of seat, better service, better meal than economic class, but dead at the same time when it is crash... hehehehe... Thank you Garuda Indonesia Airlines...